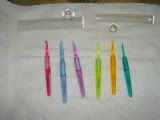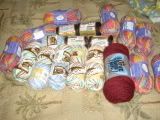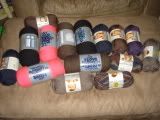 So our anniversary was September 27. We are on our 4th yr of happiness here. It also happened to be my hubby's 30th birthday. Woohooo.. Before yall say it yes we got married on his birthday and no it wasnt so he could always remember it lol he is a number man he remembers everything that has numbers in it lol. But it was great we got to go out to dinner and lunch and we also went shopping. This is what he bought me and I am so easy to please give me yarn and hooks anyday please lol. Below is the list due to pictures not being able to see the tags.
2 sets of Clover reflection crochet hooks. I love these they are ergonimic and so cute. Each set contains 3 hooks each and come with a cute little case that is color coded on top. The hooks sized are G H J K L N
1 susan bates Bamboo hook size J
i love this yarn in
Black 3
Coffee 3
Hot Rose 2
Auberyine 1
9 skeins of Vanna Whites new yarn
Yarn Bee 8 skeins
Sugars n Cream
7 mistletoe
3 faded denim
and 4 rolls of nylon size 18 in black for me to make a purse for his mom which he even picked out the pattern.
Could it get any better than that.....Actually Yes he also took off that day and friday to spend with me and the kids what a great man i have..............